For Immediate Release
DATE 6/5/15
Camp Reel Stories Contact: Esther Pearl, 415-265-2888 or esther@campreelstories.com
Tomorrow's Female Filmmakers Now Playing at Camp Reel Stories Festival

Camp Reel Stories Film Festival Showcases Films by Young Women
Oakland CA – Get a glimpse of the future of filmmaking on Saturday, June 27th from 10:00am-12pm and on July 18th from 10:00am-12pm, when Camp Reel Stories will screen films created at the Camp Reel Stories Media Program for Girls. Screenings will be held at the beautiful Lakeside Theater inside the Kaiser Center at 300 Lakeside Drive.
Camp Reel Stories Camp Reel Stories believes that when women and girls are better represented behind the scenes in the media, they will be better reflected on the screen. Only 16% of decision-makers in the film and television industry are women. Camp Reel Stories empowers young women to value and nurture their own unique voice, create their own media, view current media critically and thoughtfully, and aspire to leadership in all aspects of their lives.
"I had such a powerful experience at Camp Reel Stories. I learned so much about making movies and my eyes were opened to the injustices women experience in the media. I have always loved watching movies and TV shows, everything from Disney movies to documentaries. I never saw the inequalities that were right in front of me." CRS camper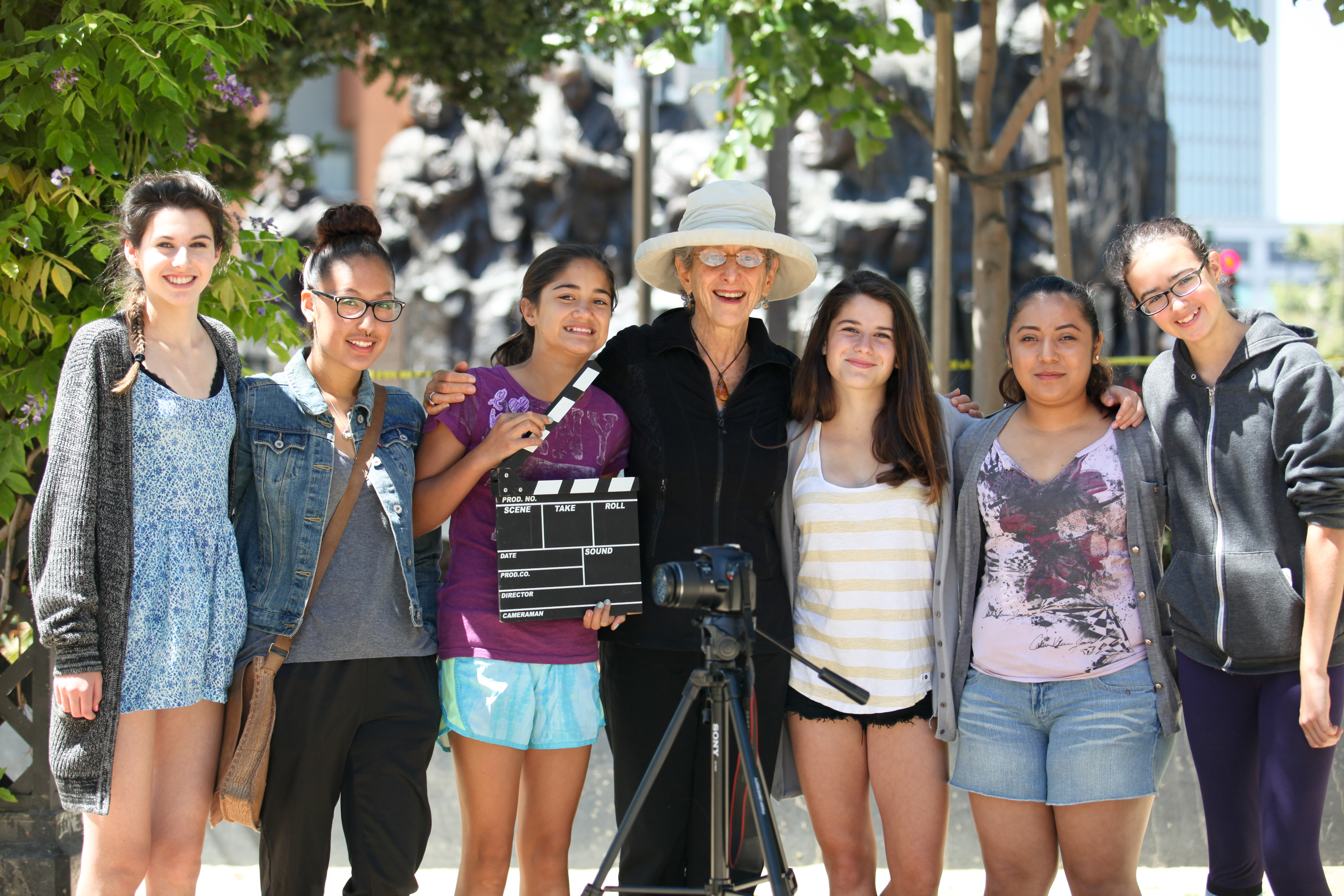 Simply Reel Productions Jenna Tessler, Samantha Ceja, Clarissa Lam, Barbara Sonnenborn, Charlotte Puscasiu, Norma Anaya and Grace Charron
Photo Credit Susan Davis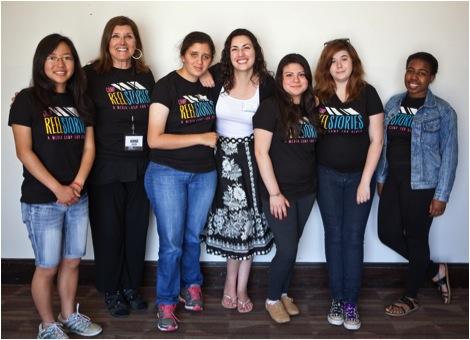 Reflected Shadows Pictures Michaela Wang, Anne Smith, Jewel Kaur-Sabhlok, Molly Celaschi, Kimberly Sotelo, Katey Abner, Nia Hampton
Photo Credit Susan Davis
For more information:
First Friday Shorts: https://www.facebook.com/pages/First-Friday-Shorts-Short-Films-at-The-New-Parkway-Free/415662848521537?ref=hl
The New Parkway, 474 24th St, Oakland (at Telegraph Ave): http://www.thenewparkway.com/
###
FOR IMMEDIATE RELEASE:
05/01/13
LIGHTS, CAMERA, ACTION! – NEW BAY AREA SUMMER PROGRAM LET'S GIRLS BE GIRLS
Oakland, CA:  "You know what I hate about watching T.V.? … I know that women make up half the population, but I see five boys for every girl, and the girls I do see, definitely don't reflect me," says 12-year-old Juli in a video describing the need for Camp Reel Stories.
Juli is not alone, and because of that, a new summer program is forming, featuring well-known and well-respected women who want to help lift the next generation of aspiring storytellers beyond the banal female stereotypes portrayed throughout much of today's media. Camp Reel Stories, an Oakland-based summer program – running from July 22-26, 2013 at Oakland School for the Arts  – will be a golden opportunity for young female storytellers to get practical experience and valuable advice from women who have earned both fame and respect in their fields.  
Camp Reel Stories will feature contributors like Oscar-winning director Brenda Chapman ("Brave"), Oakland School for the Arts School Digital Media Director Heidi Cregge, DreamWorks Director Jill Culton ("Open Season") and many others, who will teach 13-18-year-old Bay Area girls:
how to turn ideas into working stories; 

how to storyboard ideas and make the plot work;

how to shoot a film and direct it;

about the editing process in post-production

how to distribute their work and get it seen!
 The camp will culminate with a Film Festival on July 27, 2013, featuring the girls' final projects interspersed with shorts by local filmmakers.
"This is the coolest thing ever for girls.  Not only do I want to speak at it, I wish I could've gone to it when I was young!!" – Jill Culton, DreamWorks Feature Film Director
For every girl who's rolled their eyes and sighed at the cartoonish stereotypes proliferating in today's media  – the grown women fighting cattily for The Bachelor; the perennial pot stirrers and troubled Real Housewives; and the chirping, saccharine sweet/snarky franchise teens living too-charmed, one-dimensional lives – this camp is for you. Learn how to make your own stories come to life, and learn how to make the world see the real you.
Financial aid available.  Please see contacts below for more information. Please go to the website for information and bios at http://campreelstories.com
Contact:
Esther Pearl esther@campreelstories.com, (415) 265-2888
###