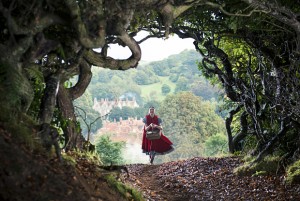 A POWfest Recap 
by Sydney Torrens
It's a scary thing, having your film in a film festival. It was 8:03 on Saturday morning and there I was laying on the floor in a hotel room in Portland Oregon feeling like a nervous, inadequate wreck before the director's breakfast at POWfest. 
 I stood up, smoothed out my skirt, took a deep breath, and marched to the downstairs lobby while channeling my alter ego (see image at the beginning of this post!)
 Minutes later I would learn I really had nothing to be nervous about and the growing knot in my stomach would quickly disappear. 
"Hi! Are you here with POWfest?", a friendly volunteer asked. I said yes, and she introduced a few of the other directors who would be riding our shuttle to the breakfast too. There were about four other women awake and casually chatting, and the fifth was passed out asleep with a bad case of jet lag and a scarf over her face.  I would find out later that she held the POWfest record for farthest distance traveled, hailing from Japan. She also toted under her artistic arm a horror film from a chicken's perspective. Rad stuff. 
 This was just one dot on the spectrum of film genres and topics we witnessed over the course of that weekend. Diversity is beautiful guys.   
 The breakfast produced not only fantastic food but also fantastic company and networking opportunities which normally terrify me but this was different. As friendly smiles cured my nervousness, conversations with fellow filmmakers cured the inadequacy I had felt earlier, as I realized that these women held no judgements but were as eager to learn about the other's films and influences as the next.   
 I met an artist from Texas who produced a homemade showcase of her oil works using 2D animation, a young documentarian from New York who changed the life of a small business owner in her community by giving back, film students, film teachers, an animator or two; women from all walks of life with diverse artistic pallets and skillets that we could all learn from in turn. This is what real art looks like. It's a conversation between  people about how to stretch the limits of creativity and the only identifying difference at this breakfast was that we all have a thing for sitting in theaters.      
 Also, travel note for anyone thinking of visiting this gem of the Northwest: In Portland, it is very difficult to stumble upon bad cuisine. Every food truck and restaraunt has a very high chance of pleasing the everyday tourists tastebuds. That I can promise you as a self-declared picky eater champ. 
 After witnessing some incredibly executed stories all weekend by the adults, and only taking breaks to eat incredible food near the theatre, it was time for the girls. 
 The films played, (pretty sure I stopped breathing during my film) and finally it was time for the Q&A. It would start first from the visiting directors and then from the local panel of POW girls present. I knew there were some serious film jocks in the audience, so I shouldn't have been surprised when I first received a question that playing back again in my memory sounded something like, "So I'm just curious, at your camp in California did you use a D289FRJ9-something camera and 1:1 ratio shot perspective?"  I explained that no, our camp's technology wasn't up to the professional grade he spoke of because we are an entry-level camp and our highest aim is to spark an interest in gender equality in media and not necessarily to create the most professional-looking films. Plus, films don't necessarily require the use of top-grade equipment to tell a great story.
We use volunteer professionals in the field to teach the technology and basic techniques but most importantly inspire the interest in storytelling and educate girls about the media they're fed. Camp Reel Stories is a starting point for girls, and that's what I love most about it.
 My favorite question was about the inspiration for our films. It was really cool being an audience member on stage and listening to each nugget of inspiration that lead each of these girls to POWfest. I felt my eyes fill with stars when the mic came to me and I shared the roots of my inspiration with the audience. Here's what I shared:
As I flew that night over a dark forest sitting in a dimly lit airplane cabin, I realized then that I was out of reasons to call myself inadequate. Just because I'm not as experienced as other filmmakers yet doesn't mean I don't have it in me to accomplish greatness in this field. Or that I shouldn't take it on with as much resolve as the veterans do. Going to Portland and being given the chance to participate in this incredible event were the inciting incidents to one of the biggest most important coming-of-age stories in my life. Even though it was over, it had sparked what I knew would stoke up into an even greater story. I felt like red riding hood emerging from the woods with a shiny new big bad wolf skin, ready to take on the film festival world and more.
Thanks to, 
 Esther Pearl and the CRS family for helping the message that is "Filtered" spread as far as it has. It's been a crazy fun ride for Eyespot and we want to thank you.   
 Thank you POWfest for all of the time and effort spent catering and hosting us in your beautiful city. 
 Thanks mom for being my #1 travel buddy and to my family for all of your support in my keeping up with this art form that keeps me sane, xo
 And lastly thank you dear reader, for taking the time to read. 
-Sydney