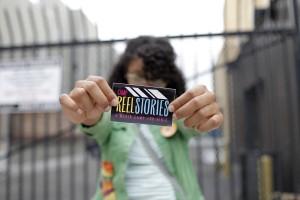 Come watch these short films that were made by campers last summer, and get to know the Camp Reel Stories community!
On Friday April 3, 2015 from 6:00-8:00pm, Camp Reel Stories – A Media Camp for Girls and The New Parkway are partnering to screen a free showcase of films that were created at Camp Reel Stories summer program in 2014. The screening will be followed by Q&A with the female filmmakers!
Camp Reel Stories films have been seen at the Bay Area Women in Film Festival, the POWfest in Portland, Oregon, Bayflicks, The Bay Area International Children's Film Festival and now at First Friday Shorts.
Camp Reel Stories believes that when women and girls are better represented behind the scenes in the media, they will be better reflected on the screen. Camp Reel Stories is a non-profit organization that empowers 13-18 year old young women with the skills to create their own media, to view current media critically and thoughtfully, and to aspire to leadership in whatever field they chose to pursue.