My name is Sophie Penn. I was born and raised in Belmont, California (Bay Area!!) and am currently living and working as an independent filmmaker in Austin, Texas. I went to Syracuse University as a film major in 2018, and subsequently took a gap year in January 2021 to move to Austin and start a film production company with three colleagues. Now, ten months later, I'm still in Austin, and am working on pre-production for my first fully independent short film, Halcyon Days.
Looking at the finished product of a film, it's easy to think "That doesn't look too hard, I could probably do that myself." And maybe you could – but I'm here to break down some of the details and logistics that go into making a film possible, with reference to my own experience working on Halcyon Days.
The first thing I needed was a script. Once I had that, I got my producer and DP on board, both of which I am good friends with and have worked with multiple times in the past. We continued to spread the word about the project, now with a script to show for it, and we began looking into how we were going to finance the film.
We crowdfunded through a platform called Seed&Spark, which is basically like a Gofundme but specifically geared towards film crowdfunding campaigns – this platform is AMAZING and I highly recommend it for independently financing a low budget film.
The first thing we did for pre-production was pick our dates and solidify our budget. From there, we reached out to crew and started onboarding department head roles, and then slowly filled the rest of the spots. We created social media accounts on all platforms so that we could reach a range of different audiences. We casted through Backstage, and locked our cast within a few weeks.
I could go on to tell you more about the pre-production process, but to be honest, pre-production is always the same to an extent, it's just a matter of scaling it up or down. The biggest advice I could give is to pull heavily on your existing network, and get those people to introduce you to their network. This method, combined with our passion for the project and the important social causes behind it, is how we got many of our crew to sign on to work on the film for a lower rate than they normally work for.
The biggest thing when creating a film is selling the "Why." You need to know WHY this story needs to exist, why you're the right person to tell it, and why someone else should want to get involved..
This is my "why" for Halcyon Days:

The media has an extremely violent way of portraying manipulation and emotional abuse in relationships. This results in an incorrect depiction of the reality of such relationships, while also perpetrating the fallacy that these signs are always blatantly apparent. People are not only nice or mean, relationships are not simply healthy or not, and love is sometimes given to those who don't deserve it. We live in a world that is full of shades of gray.
I was drawn to write this story because I believe it's imperative to explore conversations about toxic relationships, mental health, first loves, and all of the intensity and drama that comes with living through one's teenage years. I like to think that had I watched this film at 15, maybe I would have gained some clarity on my own situation.
After meeting online, two young teenagers quickly develop romantic feelings for each other. When an incident with her parents sparks rebellion in Stella, the two decide to escape their problematic home lives and run away together. With the help of his dad's "borrowed" car, Rye and Stella embark on a three day long escapade across West Texas in an attempt to start a new life together away from their troubles, parents, and everything they once knew. In this unconventional romance, the implications of love are explored in a dark take on young relationships.
Every film has its own creation process and it's never going to go completely according to plan, but if you can be open and adaptable to change, anything is possible.
At this stage, we are almost completely funded for production, and have just a few days left in our crowdfunding campaign. We're moving on to rehearsals, location scouting, and equipment reservations. We will be shooting in early December 2021, and plan to run the festival circuit and hopefully get the film distributed to a streamable platform. I'm extremely excited for what the future holds for Halcyon Days, and I'm honored to be able to share a snippet of what goes on behind the scenes!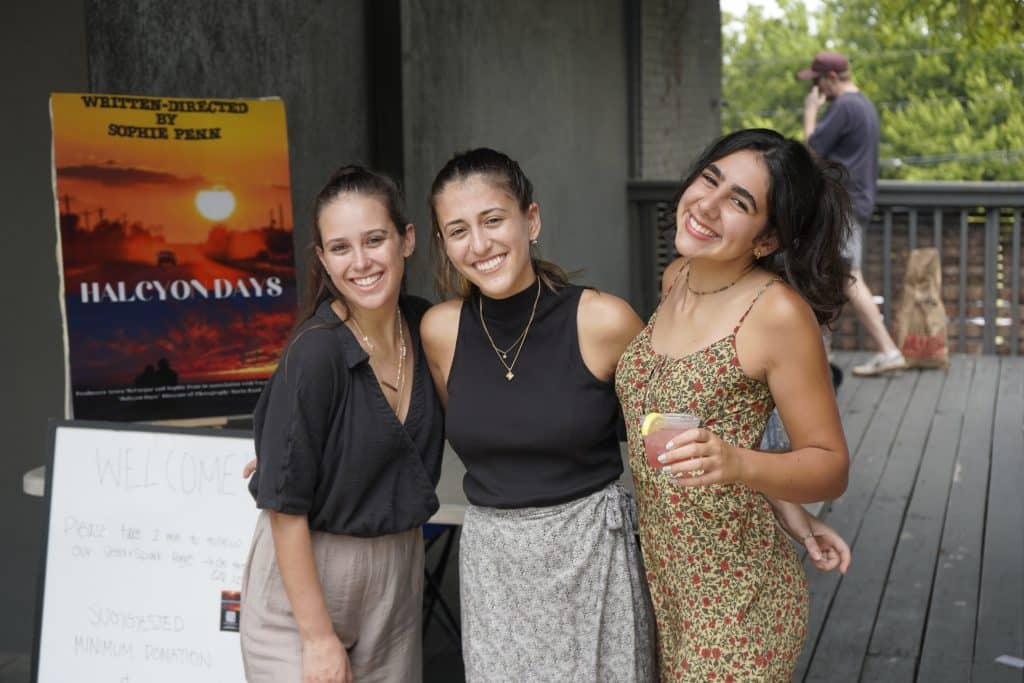 To learn more about Halcyon Days, check out their Seed&Spark page and follow their social media on Instagram at @HalcyonDaysFilm and on Twitter at @FilmHalcyonDays