⭐ Let the stars tell you what film to watch this week ⭐
This list was curated by Reel Stories Intern Grace Kelly 🤩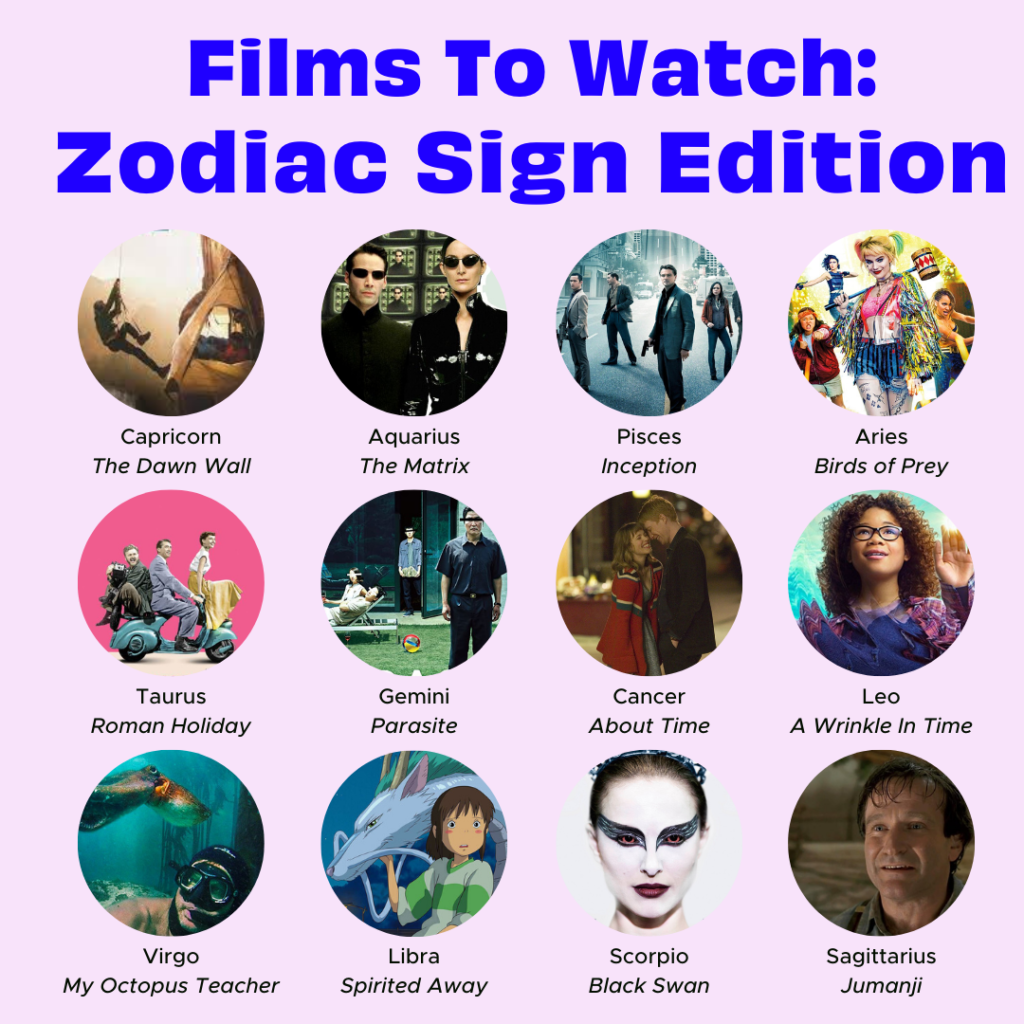 ♑ Capricorn: Capricorns are ambitious, direct, and love to learn. Capricorns would enjoy an athletic documentary, such as "The Dawn Wall", which follows a man on a mission to climb El Capitan at Yosemite.
♒ Aquarius: Aquarians can be enthusiastic and active, or more reserved and calm, either way, they love thinking about the future and love science fiction, which is why "The Matrix" would be the perfect movie for them!
♓ Pisces: These daydreaming people love to think about the impossible, and would love analyzing and taking apart movies such as "Inception".
♈ Aries: Aries love to explore new places and are always up for an adventure. "Birds of Prey" would suit their desire for adventure and give them an action-packed journey to watch.
♉ Taurus: These people love to fantasize about the past and the classics, which is why they would enjoy the classic "Roman Holiday"!
♊ Gemini: These signs love to unpack mysteries and thrillers, which is why "Parasite" would suit their preferences perfectly, due to its intelligent plotline, which is complimented by a horror aspect.
♋ Cancer: Cancers are obsessed with love and would enjoy the time-traveling romance movie, "About Time".
♌ Leo: This sign has a reputation for being very lively, expressive, and fun, and "A Wrinkle in Time" would match that energy perfectly.
♍ Virgo: Virgos love documentaries, specifically ones about nature and wildlife, due to their love for learning, which is why "My Octopus Teacher" is a film that would occupy their love for learning new things!
♎ Libra: Libras love animations because of their creative and bright colors, which is why "Spirited Away", which is filled with bright colors, beautiful art, and interesting colors, is perfect for these signs.
♏ Scorpio: Scorpios love anything mystery and love films that have deep layers to them, which is why "Black Swan" is the perfect choice for these analytical signs.
♐ Sagittarius: Sagittarians like the Aries sign, love adventure and any movie that has to do with exploring a new world, which is why "Jumanji" would be the perfect fit for them.