By Grace Kelly, Reel Stories Intern and Reel Stories Student Board Member
Recently, I had the pleasure of watching a film that was written and directed by my English teacher, Jamie Donohoe.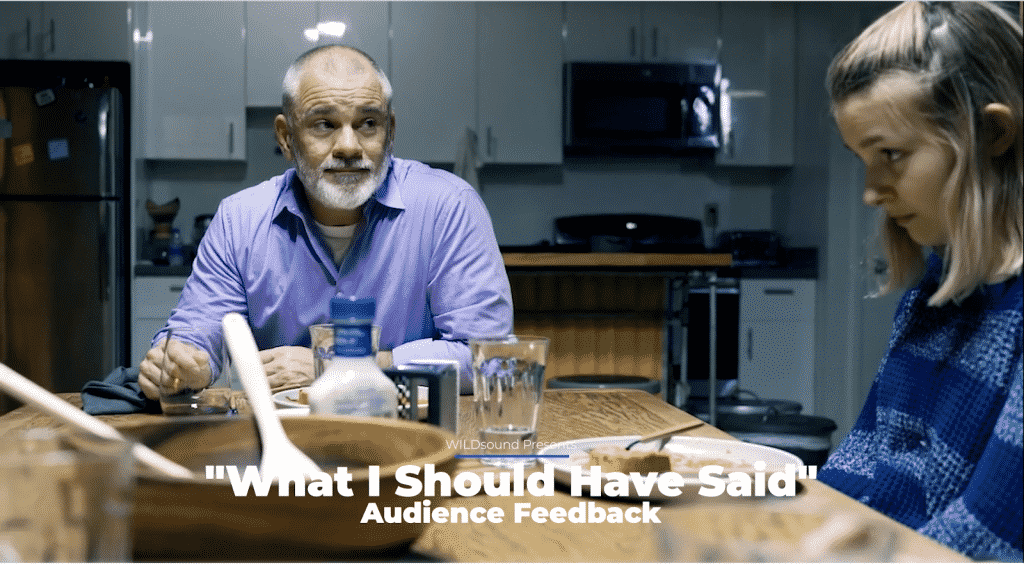 "What I Should Have Said" starts off by depicting a father and three kids at a dinner table. Donohoe said that the dinner table is the one time where everybody is together and that, for him, it was a time where he received good and bad news with his family and so for everyone to lie and say they are fine, it changes the perspective from a family dinner to isolated strangers sitting at the same table. Throughout the film, the script is written in a way that projects everyone's inner thoughts and exposes the deeper reality that each person is facing. The dialogue alternates between the interactions of the distant family to give the audience a deeper perspective into each person's minds. What I found truly interesting was that the script was written to replicate a poem, using rhyming words from different people. To me, the rhyming emphasized the character's underlying need to be a normal family and work in sync with each other, but their individual struggles and hidden anger towards their father hampered and ultimately stopped them from speaking their true struggles. The internal struggle of everyone at the table, including the father, is so subtly, yet so loudly, exposed in this film that it leaves the audience feeling vulnerable themselves.
This film created a strong connection with the audience because feeling isolated and alone is something I think we can all relate to. Whether we know it or not, dishonesty with not only others, but also ourselves, is a concept that is true to any audience, which is what makes this film so great. Usually, I am a fan of creating silent films because dialogue can so easily break a film, but it was clear that the script was refined to perfection which is what made the film so powerful. This film has changed my opinions about including dialogue in films and it has truly shown me that dialogue can sometimes be the most important tool in creating the impact of a film.
This film included so many powerful lines, it is hard for me to get it all into one blog post, but I will say that this film has inspired me to include more dialogue into my own. Not only was the script, or poem, a powerful part of the film, but I couldn't help but notice the cinematography, which was filmed by Thomas Broening. I found the choice to use handheld shots instead of using a tripod an interesting but genius choice. The slight shakiness of the shots really showcased the imperfections of the characters in the film. The choice to make the shots below or at eye-level indicates someone is watching and hearing the pain the characters are bottling up. It adds to the relatable pain they are feeling by portraying something that they don't have, which is someone to truly see them.
Overall, I not only found this film incredibly profound both in script and shot choice, but it was able to connect with me on a level that I have rarely connected on before. "What I Should Have Said" reflects the familiar feeling of isolation and the pain that comes from keeping things from our loved ones, which is what makes it a truly profound film.
Grace Kelly is our Reel Stories Intern. She has been with Reel Stories for the past four to five years, and has been a member of the Reel Stories Student Board for the past three years. Grace has made four to five films with Reel Stories, and four more on her own. She works in live broadcasting as well as in traditional filmmaking, and she loves both of them! Grace is excited to write blog posts for the website and feature more amazing films in them!